The New Nissan Frontier Is The Mid-Sized Truck For You
The Nissan Frontier is the perfect truck in Red Bank, NJ for drivers looking for an everyday workhorse with enough power and features to get the job done. This is the smaller truck in the Nissan lineup, but it provides top performance. This popular truck is loaded with interior features, and there are several features provided to keep you and your family safe.
Performance Features
The latest Nissan Frontier is equipped with a 3.8-liter V6 engine that provides 310 horsepower. You can haul and tow significant loads with this mid-sized truck. The towing capacity is 6700 pounds, and the payload capacity is 1400 pounds.
Rear-wheel drive is standard on the Frontier, but all-wheel drive is available on some of the trim levels. This allows the truck to have the traction you need when driving off-road.
Interior Features
The interior of the Nissan Frontier has plenty of features that make for a great ride. For instance, this truck is equipped with dual-zone climate control. This feature allows the driver and the front passenger to set the cabin temperature at the level where each is the most comfortable. The Nissan Frontier also comes with a 7-inch touchscreen. On this touchscreen, you can utilize the navigation system that can work with voice commands.
Safety Features
The Frontier provides safety out on the roads in several different ways. One feature that keeps you safe is the tire pressure monitoring system. This feature helps to prevent flats and blowouts.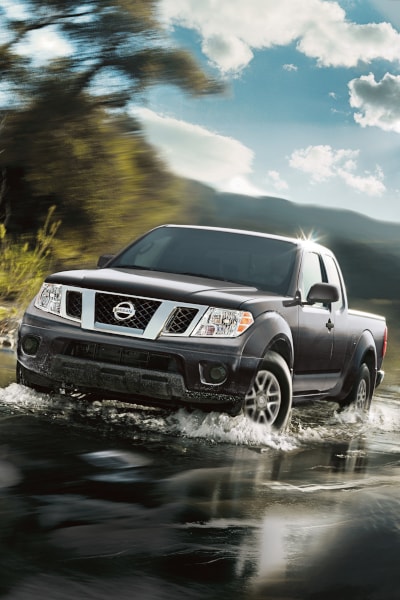 A rearview monitor is standard on this truck. You will be able to see what is behind the truck when you begin to back up.
The new Nissan Frontier is an affordable truck that offers you power, safety, and nice interior features. Contact Nissan World of Red Bank for more information on buying or leasing a new Nissan Frontier today.